About...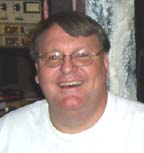 Dave Glawson
Dave has been involved in the wireless Internet business for over 5 years, and has been an ISP since 1995. Having previously been Manager of Worldwide Technical Support for Apple Computer, Inc. and has been self employed in the Internet business since 1995 and C.E.O. of
U.S. Microwave, Inc.
since 1997. He is also owner of
Esoteric Sign Supply Co.
, an 1800's style sign supplies company founded by his brother, Rick Glawson.
Additionally, Dave is a Partner in Creative Wireless, Inc. a Wireless Internet Service Provider (WISP).

E-Mail:dave@daveglawson.com